The First Lady cut the ribbon to open the Anna Wintour Costume Center at the Met! —  @MichelleObama #MetGala

"The new Anna Wintour Costume Center is designed to accommodate and inspire the next generation." —Director Thomas P. Campbell #CharlesJames
"We have been given a facility that will allow us to experiment w/ new strategies to present fashion as never before." —Curator Harold Koda – 9:10 AM – 5 May 2014
The Charles James exhibition will open May 8, 2014.  The Met offers this great link to images.
@MetMuseum Press Preview today of the new #CharlesJames exhibit! Photo: Cross section of his 4-Leaf Clover Dress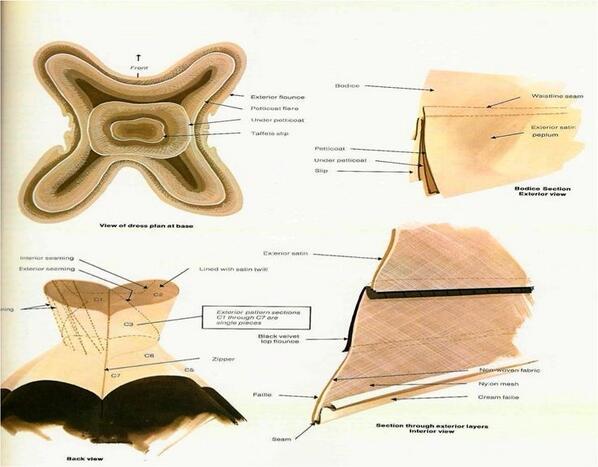 24 hours before the #MetGala, photographer Cass Bird took the best ball gowns of spring for a tour of Manhattan.

Vogue Magazine @voguemagazine 
Met Galas have always attracted attention.  Some attend as fashion rebels.
Victoria Beckham in Giorgio Armani at Superheroes: Fashion and Fantasy, 2008 Photo: Michael Loccisano/FilmMagic from the post Met Gala Dress Code Rejectors
This next link may not be permanent but enjoy while you can – Social Media
This link to Fashion Sleuth is a permanent fixture.  This site has photos of gorgeous fashions that have been reproduced for the Gene Marshall doll.  There are a number of Charles James designs in the mix.  Can you find them?